Thursday, 30 November 2017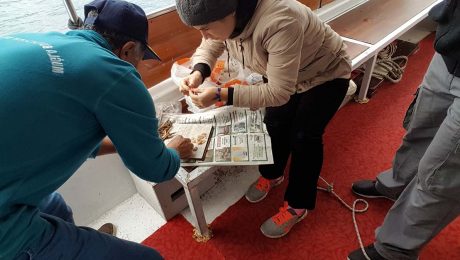 We do not have much fishing experience. And if we look back at our life in Istanbul, we were not able to do that either. But when we started living in Icmeler in Marmaris, we chose fishing as our hobby. We jump on our bikes and come to the beach to learn how to catch fish. In this time, we have developed ourselves. At least we do not forget to take the bells off while we are throwing the fishing rod.
We shared our curiosity with our friends. Izzet, who is quite older than us, invited us to fish. There is a boat that he organizes private boat tours for 8-10 people. He is taking his guest to Marmaris bays. He ensures that his guests to spend pleasant and enjoyable minutes during day. When the season is over, he devotes his time to himself and his family. One day he called us and said, "I am going out for fishing, would you join?" we immediately said "of course" and we went out to fishing at 8 o'clock in the next morning. We understood how peaceful were the words of "we are out for fishing" and "we are fishing" and they are actually filled with joy, fun and tranquility.
İzzet Abi (Brother), with all his patience showed and tried to teach how to catch fish with fishing rod, how to keep the fish, how to prepare the fish bait, how to understand if the fish came. We were good students, we solved the mechanism, and with a little luck we had 26 red bouge fish, 1 red sea bream, 1 hani fish. We went at 8:00 in the morning and returned at 17:00. We do not even know how time passed. Being on the sea is a really different feeling. It is necessary to look away while enjoying the fishing and gazing at the crystal clear sea in order to enjoy the nature and calm down. Something like therapy. We are not satisfied with this much. Let's see how our next fishing adventure will be.