Thursday, 26 October 2017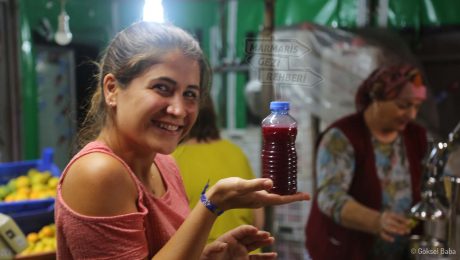 We like to travel and to be on the road. We like to go somewhere else and discover new things. We went to Köyceğiz. A district gathered around the lake that merges with the Dalyan sea. It has a long walking cordon around the lake shore. There are also cafes and restaurants along the cordon. This is not just the summer season; it is a place where life is always moving. There are many villages around. You can see detailed information about Koycegiz and related directions in our post under the heading of the Nearby Areas. After Köyceğiz, we arrived at Ortaca.
We learned that Ortaca is famous with its Pomegranate gardens. If you come here, you should taste the pomegranates. Stooped in one place selling fruit on the side of the road. A very sweet lady and husband welcomed us. They have recommended pomegranate juice to us. They filled the cups immediately and gave it. They also asked us to try the mixture of orange and pomegranate. It's all sweet. Pomegranate and oranges fit together. If you go there, you should definitely try these two.