Thursday, 26 October 2017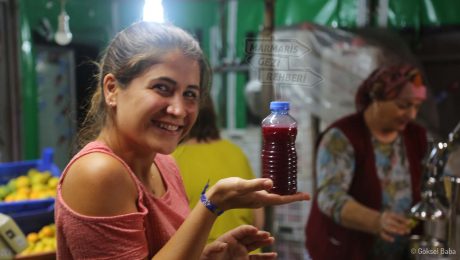 We like to travel and to be on the road. We like to go somewhere else and discover new things. We went to Köyceğiz. A district gathered around the lake that merges with the Dalyan sea. It has a long walking cordon around the lake shore. There are also cafes and restaurants along the cordon. This is not just the summer season; it is a place where life is always moving. There are many villages around. You can see detailed information about Koycegiz and related directions in our post under the heading of the Nearby Areas. After Köyceğiz, we arrived at Ortaca.
We learned that Ortaca is famous with its Pomegranate gardens. If you come here, you should taste the pomegranates. Stooped in one place selling fruit on the side of the road. A very sweet lady and husband welcomed us. They have recommended pomegranate juice to us. They filled the cups immediately and gave it. They also asked us to try the mixture of orange and pomegranate. It's all sweet. Pomegranate and oranges fit together. If you go there, you should definitely try these two.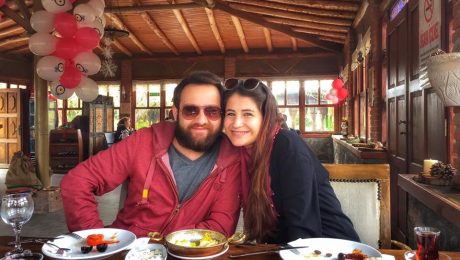 We started to the year 2017 with a spontaneous Christmas plan. As we swimmed in the sea in December in Icmeler, we met with elder sister and brother. This very sympathetic couple has just settled in Icmeler just like us. We talked about our Christmas plan and we said we did not have a plan. These lady and gentleman have asked us to join them. They said that they reserved a hotel called Ortaca Stone House in Ortaca and planned a super organization. We were wondering about Ortaca since we have'nt been there. With a little research on the internet, we joined them. And met them on 31 December: D
It was really had a great restaurant, great live music, and of course great food: D It was a super evening. We ate a lot and drank plenty much. 😀 We met with new people. At 4 am we ended up having fun and turned back to our rooms. You need to see the decoration of the rooms. As the name implies, the walls of the house are like stone walls. The rooms are designed just like the old village houses. We went downstairs in the morning to have an amazing super breakfast. I tried the village cheeses, the village jams and the tastes I did not know before.
We had breakfast immediately and left there after giving thanks to the owners of the place. We would not have been able to go to a Dalyan tour when we arrived here. We immediately agreed with a little sightseeing boat and were started to enjoy with the beauty of nature. We passed through the reeds to the beach of Dalyan Iztuzu. This is a private beach 5 thousand 400 meters long where the caretta caretta turtles come to lay eggs. On this world-famous beach, a safe area for turtles has been created. The sea is shallow and has a velvety sand on the floor. It is incredibly enjoyable to swim and play water games here: D