Saturday, 08 October 2016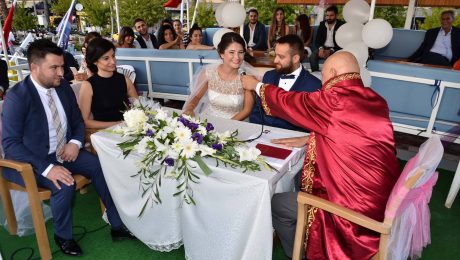 We cannot enjoy today because of our worries regarding tomorrow. After all, we cannot enjoy now or the future. That's what we felt exactly. We wanted to get away from the complexity of Istanbul and all its negativenesss. One day, we went to Marmaris for a documentary film shooting. Besides the wonderful nature views, the smile of people and the life quality of the people affected us very much. We moved to Icmeler in Marmaris exactly 2 weeks later and got married here with a wonderful wedding ceremony :). We continue to run our advertising agency (Seyyar Agency) here.
We went to Istanbul for our marriage procedures and then we finished our documentation works at the municipality of Marmaris and we finally got our marriage day and we were ready for the preparations. We organized an invitation for 120 people on the Dogan Güneş Aladdin Captain's boat: D We set up a hotel where all our cousins, our uncles and aunts can accommodate and invited them. Our minds were busy with crazy questions; How will the people come, how to get to the boat, how to get back to the hotel after getting on the boat, how to arrange food and drinks on the boat, how to decorate the boat like? With the help of our friends, everything went smoothly. The entertainment started at 4:00 pm and ended at 12:00 pm (we played a lot and we never sat down: D). We would like to thank everyone who was with us that day. We would like to thank you to Muhsin Cesur, Selman Pekiyi, Sima Pekiyi for taking photos and videos and, Tuncay Zeybek, Tuğba Zeybek, Sır Büşra Yavuzer, Bedri Bulut and Ahmet Yavuzer for checking everything and solving problems.
Wedding Story: